Final Fantasy XIV: Stormblood Is Extended To Include Eureka
Final Fantasy XIV
Date: Mar/05/18 01:29:40
Views: 97
On March 13, the FINAL FANTASY XIV: Stormblood saga continues with the release of Patch 4.25 and is extended to include the Forbidden Land of Eureka.
This region introduces a new challenge to players with new combat elements that must be mastered to gain powerful new weapons. The content update also provides the latest chapter in the adventure of master criminologist Hildibrand.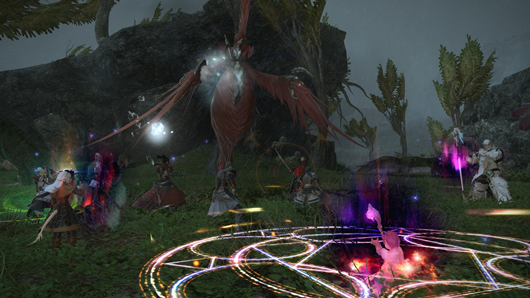 The Forbidden Land of Eureka is a vast, untouched stretch of land that offers a number of innovations:
Large-scale gaming experience: Up to 144 players can play together in a single instance. Players are encouraged to team up with other adventurers to hunt monsters and pursue common goals.
Player Development: Players will gain elemental routines to make better use of the elements. The new game element "Magi Chalkboard" can also be used to adjust the elemental values, which is essential for the exploration of Eureka.
Modified Fighting Mechanics: Advanced strategies are required for element-based combat, where players must use the Magia tablet to adjust the elemental value of their attacks and counteract the element of their opponents. This elemental fine tuning of the Magia tablet will be done before the start of the fact-finding mission with the help of the Magia-Fusionator and will be thoughtful depending on the purpose of the expedition.
Rewards: When exploring Eureka, players occasionally receive unstable crystals that can be used to upgrade Eureka weapons and equipment thanks to the master smith Gerolt.
In addition, today begins the annual Little Ladies Festival, a seasonal event that runs until 14 March. The song thrush will return to Eorzea for another performance and players will be able to attend the festivities with three new emotes being learned as part of the separate order series. Remember to stay tuned at FFXIV4GIL for more FFXIV news, tips, guides and even cheap Final Fantasy XIV Gil.